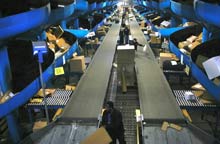 Move it: At the FedEx SuperHub in Memphis, chutes and conveyor belts carry more than 1.2 million packages each night.
The retail season is in full swing for the holidays, and it couldn't happen without two giants of logistics, UPS and FedEx. As those brown UPS trucks remind us, the global economy thrives on "synchronizing the world of commerce."
Not long ago, I talked with FedEx founder Fred Smith at a World 50 meeting of executives in Memphis, Tennessee. More recently I visited the company's operations in the midst of holiday-season madness.
Here is some of what I learned:
Make no little plans. The great architect Daniel Burnham once said, "Make no little plans. They have no magic to stir men's blood and probably will not themselves be realized."
Fred Smith's inspiration for FedEx involved no little plans. The result is the largest air-cargo company in the world: it employs 290,000 people, maintains a fleet of 75,000 trucks, and owns and operates 684 jets. It has more wide-body jets than any airline, including Boeing 777s that can fly from Shanghai to Memphis nonstop. The SuperHub, the heart of FedEx's operations, measures four by four miles and occupies 900 acres. Some 30,000 people are needed to run it.
In many ways, the SuperHub dwarfs its "big brother," Memphis International Airport. The SuperHub is a world unto itself, with a hospital, a fire station, a meteorology unit, and a private security force; it has branches of U.S. Customs and Homeland Security, plus anti-terror operations no one will talk about. It has 20 electric power generators as backup to keep it running if the power grid goes down.
Every weekday night at the SuperHub, FedEx lands, unloads (in just half an hour, even for a super-jumbo 777), reloads, and flies out 150 to 200 jets. Its aircraft take off and land every 90 seconds. This all happens between 11 p.m. and 4 a.m. Central Time. The SuperHub processes between 1.2 million and 1.6 million packages a night.
From Thanksgiving to Christmas, FedEx will ship 223 million packages worldwide. Last Monday, its busiest night ever, it moved 16 million packages.

Be a speed demon and a control freak. Walking the SuperHub, you can feel the need for speed. Planes land continually and disgorge oversized aluminum containers; parcels of all shapes and sizes zoom into processing centers on hyper-kinetic conveyor belts; and no fewer than 2,000 drivers of light trucks, forklifts, and small industrial vehicles swarm throughout the facility. To control it all, everything and everyone is UPC-tagged; everyone and everything is tracked.
Nothing illustrates the point better than the Small Package Sortation System, a vast, FedEx-designed machine that sits in its own warehouse. It cost $175 million to build and sorts an average of 1.2 million packages a night. It scans the bar code on every package at least 30 times. Any delays in the process can get detected in minutes. That's why the U.S. Postal Service has become one of FedEx's major accounts. FedEx's SmartPost operation delivers the "last mile" for much of the United States' daily mail.
Because FedEx is as disciplined and reliable as it is, standard items it ships include chemotherapy drugs, human hearts and other live human organs, artificial joints, contact lenses, surgical scalpels, fresh blood, heart monitors, circuit boards, auto bumpers, tractor parts, Swiss watch elements, rare manuscripts, aviation components, Maine lobsters, crickets, whales, snakes, Japanese cherries, Hawaiian flowers, tennis shoes, and European fragrances. Oh, and FedEx also transports the occasional Arabian race horse and antique automobile. Any large cargo, from 150 pounds to 2,000 pounds, is fair game.
It's about the information, stupid. IT both created demand for FedEx's services (Dell was one of FedEx's first tech customers) and enabled FedEx to thrive. Smith realized that tracking packages—knowing points of origin, movement through the system, and estimated times of arrival—was nearly as valuable as the packages themselves. Today's FedEx has made innovative uses of new data-tracking technologies, such as QR codes and RFID tags. The latter report on temperature and moisture conditions of individual packages as they move from origination point to destination.
If there were "Seven Wonders of the Industrial World," FedEx's SuperHub would easily rank among them, right up there with Toyota's production centers, Google's data centers, and NASA's Mission Control.
Jeffrey F. Rayport is a former faculty member at Harvard Business School and the author of several books about electronic commerce. He is the founder of Marketspace LLC, a strategic advisory company. Currently, he is an operating partner at Castanea Partners, a Boston-based private equity firm.