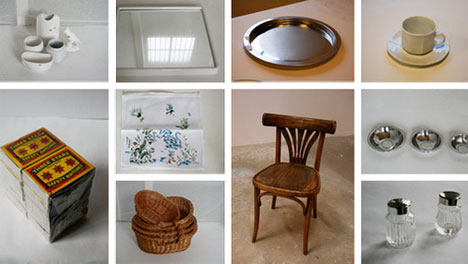 Image by Droog
Designers everywhere are preparing for this year's Salone del Mobile in Milan, and so is Droog. The Dutch design company saved 5135 items from liquidation sales and other leftovers and invited 14 designers to create something new with these objects. The result: folding chairs manicured by nail artists, handkerchiefs that distribute selected daily news articles, spoons with non-edible yet mouth-watering coatings- all on sale at the Milan furniture fair next week!
According to Droog, every month about 500 companies in the Netherlands go bankrupt. The question is: Where do their products go? Droog managed to get hold of 5135 products by bidding at liquidation auctions: 1 water cooler, 1 dining table, 2 bar stools, 4 metal trays, 6 wooden trays, 8 mirrors, 10 small bowl sets, 11 cups, 14 dog baskets, 20 dish towels, 40 glass vases, 50 safety vests, 60 sets of cutlery, 80 folding chairs, 90 flower pots, 100 candy pots, 102 wooden spoons, 168 plates of glass, 200 saltshakers, 448 wallets, 500 matchboxes, 720 cola glasses, and 2500 handkerchiefs.

Reading through Droog's new blog, interesting questions have been raised regarding the re-use of these objects as well as consumption and production in general. Here is how designer Erna Einarsdóttir described her initial reaction to the design brief:
It is pretty clever to not let all these things go to waste and, coming from Iceland, I think we could have used a project like this over here. I am sure many things are getting thrown away from empty offices in Iceland.
Designer Ed Annink's reaction was "sad and happy". He says: "All together we design and produce too much, and see what happens! Stuff does not reach our houses anymore, but instead they stay at dark places. No function, no fun. But yes, a story!" Let's see what Ed comes up with, using 14 dog baskets, and 60 sets of cutlery.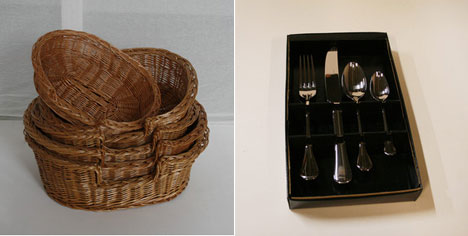 Image by Droog
Saved by Droog is an interesting creative exercise to re-use "lost" objects as raw material. "A pragmatic starting point with surprising outcomes, the presentation celebrates the re-use potential of leftovers as a valid approach to product design and development", says Droog.

Visit Droog in Milan: April 14th - 18th, Via Alserio 22, Milan, 20159, Italy. ::Droog
More about Droog:
Pioneers of Change: Repairing Manifestos, Slow Food & Dutch Design Shows at Governors Island in New York
House of Furniture: Chairs that Pop Out of Walls
A "Touch of Green" in Milan 2008
12 Milkbottles Recycled into One Lamp by Droog