Rem Koolhaas's rotating Prada Transformer structure in Seoul
By: Evan Ramstad
-
Dutch architect Rem Koolhaas turned a museum into a store for Prada in New York. And he built a store without a façade for Prada in Beverly Hills. Now, he's created a building that moves for Prada on the grounds of a 500-year-old Korean palace.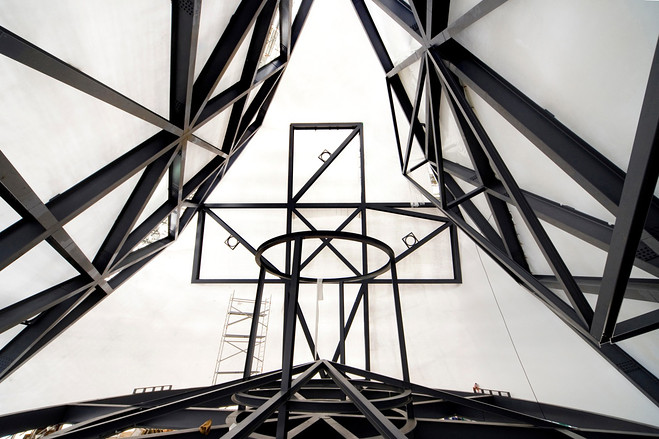 Called the Prada Transformer, the four-sided, pyramid-like building will open Thursday night with a gala hosted by designer Miuccia Prada and Mr. Koolhaas. The building is a steel frame wrapped in a polyvinyl covering known as "cocoon" that was initially developed by the U.S. Army to protect aircraft and vehicles in storage. Even so, the structure weighs 160 tons and takes four cranes to lift and rotate.
The fashion house is using Transformer as a pavilion to house the company's "Waist Down" exhibit, a series of twirling skirts that has already been shown in New York, Los Angeles and Tokyo, for the next month. Later, it will be used for a film festival, fashion shows and an art exhibit.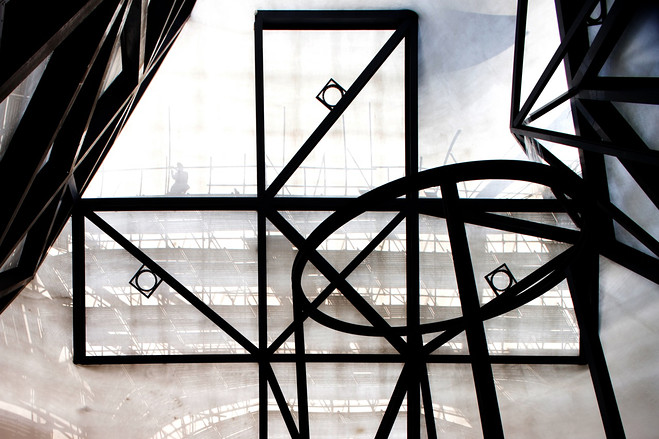 For each new purpose, the Transformer will be lifted up by cranes, rotated and set down on another of its four sides. For the "Waist Down" exhibit, the building sits on a hexagon. For the film festival, a rectangle; the fashion show, a circle; and the art exhibit, a cross.
"When you follow the concept form follows function, you want to express every program in the form of an entity. So we decided to make a movable object, which represents every single program in an ideal way," says Alexander Reichert, senior architect for Koolhas' Office for Metropolitan Architecture, the Rotterdam firm that has done numerous projects for Prada. "The concept really is that it has a life, which is expressed through its rotation," Reichert says.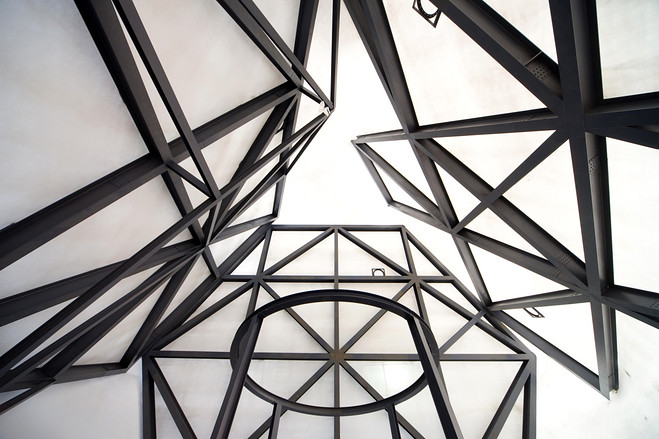 Prada decided two years ago she wanted to do an attention-getting project in South Korea, a growing market for luxury brands that is often overshadowed by nearby Japan and China. The country's own fashion industry is still relatively small and South Koreans tend to be more communal than individual in style.
But Seoul's university-age women and men are starting to display more flair. And the city's mayor is behind a design campaign to both beautify its cluttered neighborhoods and build its reputation among the global architecture crowd. "There's a lot of interest in this project," says Ahn Song-eun, one of eight South Korean university students whose designs were selected to appear with Ms. Prada's in the "Waist Down" exhibit. "Many Koreans are amazed this is happening in Seoul."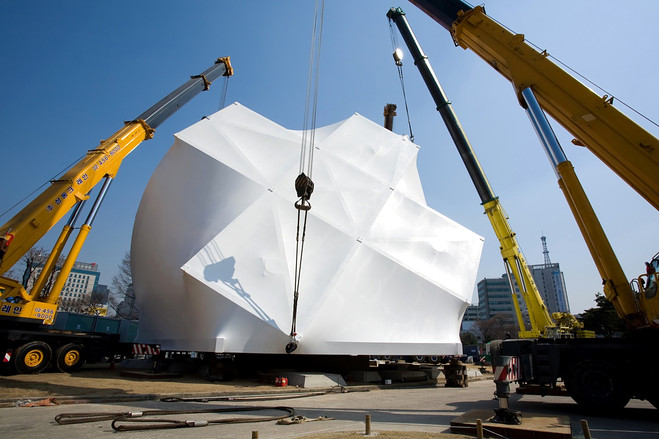 Local officials initially suggested locating the Prada pavilion in the park that was the site of the 1988 Summer Olympics, off on the southeast edge of the city. But Koolhaas and Prada wanted it in a place closer to business and shopping areas.
The space between the outer and inner gates of the Gyeong-hui Palace, adjacent to the Seoul Museum of History, seemed perfect. The palace is the smallest and least-visited of three palaces near a giant boulevard in the heart of the city. But its setting, rising up a small hill on one side and looking down a street of new office buildings on the other, is by far best-suited to a visually-striking addition like the Transformer.
"You have a horizontal, very grounded palace and a modern, rotating object," Reichert says. "Visually as well as conceptually, there are two worlds of architecture next to each other. The pavilion benefits from the palace and the palace gets something from the pavilion. It's just a beautiful background, one way or the other."
The elastic membrane around the around the structure brings a level of abstraction to the Transformer that Reichert describes as between art and architecture. "There are elements in there like the air conditioner that make the structure very sophisticated," he says. "Even though it is sophisticated, it doesn't appear as such. That's why I think it's like something in between."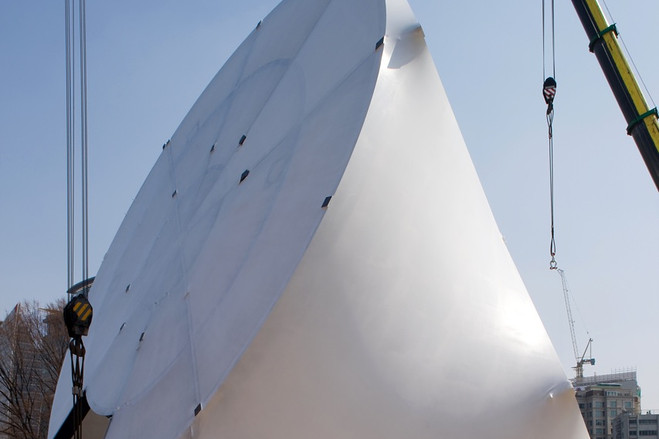 Of course, on another level, the Transformer is also a giant engineering problem: a four-story object that's supposed to be rotated every two months or so.
Construction crews earlier this month held three practice sessions doing just that. Preparation takes a few hours but, by the third session, the crane operators could do the actual rotation in just 20 minutes.
While that had been the idea since the project's conception, seeing it happen still awed Reichert. "They were sitting in the crane, smoking cigarettes and playing with a building like it's a big toy," he says.
For an eyewitness account of the Transformer's opening night, see Part 2 of Evan's report tomorrow.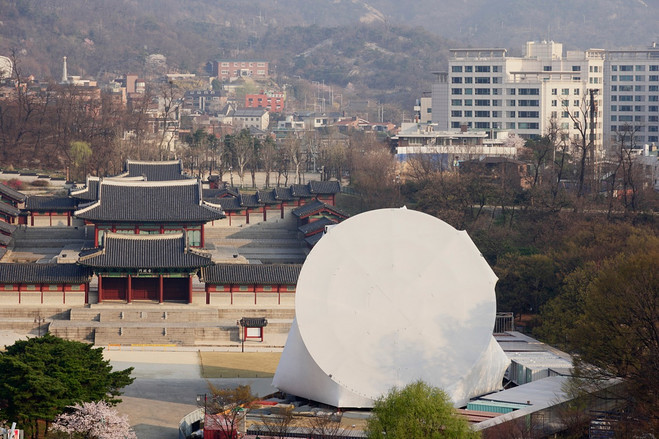 ---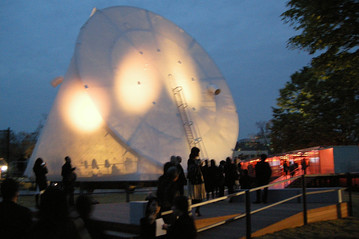 The Prada Transformer got its name because architect Rem Koolhaas designed it to be lifted up and placed on a new side for each of four different shows that Miuccia Prada has designed for it over the next six months.
But at its debut gala Thursday night, the 66-foot-tall pavilion showed a different reason for the name – its high-tech translucent skin, which casts shadows inside during the day, sends them out at night. The changing silhouettes of party-goers inside the pavilion gave a sense of performance to those outside on the grounds of Gyeong-hui Palace, where the building will stand for the next six months.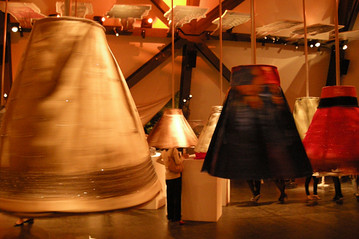 Prada's namesake designer was joined by Patrizio Bertelli, the CEO of Prada, and Koolhaas in hosting about 1,500 people at the opening night of "Waist Down in Seoul," the exhibition of Prada skirts that has previously visited New York, Los Angeles, Tokyo and Shanghai. The party drew some of South Korea's A-list models, actors, designers and other artists.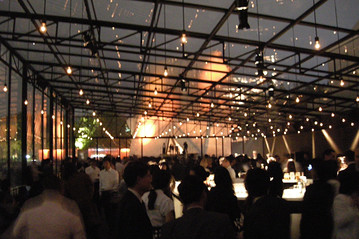 I watched as strikingly tall cover girls Song Kyung-ah and Jang Yoon-ju hung out together, taking pictures of each other and friends at the champagne bar. Jang has been called Korea's Carla Bruni after recording her first album last year.
Actor Daniel Henney, a Korean-American who has been in TV shows and movies in both countries, says it was his last night in the country before heading back to the U.S. to do more promotion for "X-Men Origins: Wolverine" in which he co-stars. Henney and the movie's star, Hugh Jackman, drew a huge crowd earlier this month at an event in a city park just a few blocks from the palace.
Among the most excited to be there were eight students from fashion design programs around South Korea who were chosen to exhibit their work with Prada's, the first time the "Waist Down" show has expanded in such a way. Ahn Song-eun, of Seoul's Ewha University, designed a skirt based on traditional Korean ink painting with strands of shiny silk to give it a futuristic edge. "I think it fits in this modern exhibition," she says, looking off at the hidden machinery that spun and flapped Prada's skirts.
The 500-year-old palace provided a striking counter-point to the steel and polyvinyl-wrapped pavilion and the exhibit of Prada skirts. Opening night capped two-and-a-half months of construction.
Among the people celebrating the opening with Koolhaas' architects and technical crew was a group of executives and engineers from Cocoon Holland BV, whose business cards boast of "coatings, conservation and mothballing."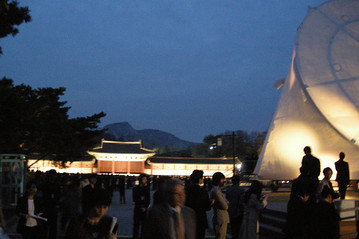 About a year ago, Koolhaas' people called Cocoon to ask whether its plastic-leathery fabric, which can be sprayed into shape and is usually used to cover parked airplanes and tanks, could be used as the skin of a building. When they said yes, the Koolhaas team pushed Cocoon to come up with a translucent version of the fabric, an innovation that now seems to be one of the most far-sighted ideas of the Prada Transformer. In the daytime, bright light from outside sends shadows of trees through the fabric and into the pavilion. At night, the opposite happens as lights inside cast silhouettes on the pavilion's walls.
Cocoon managing director Alexander van der Zee never thought his business would be associated with a project such as this. And the gala was even more removed from his imagination. "We preserve airplanes, oil rigs, big spare parts for oil tankers," he says. "Usually when we're done with something, people just say 'See you next time.'"
Later this year, the pyramid-like pavilion will be rotated three times – its rectangle side used for a cinema, its circle side for a fashion show and its cross side for an art gallery. In October, construction crews will take it apart and recycle the membrane and steel to be used elsewhere.
All photos courtesy of Prada and Evan Ramstad.
-----
Via The Wall Street Journal