A new exhibition called
Forest
, curated by Cécile Martin, opens up tomorrow night in Montreal. For the show, "artists and architects have joined forces to propose a new vision of the forest."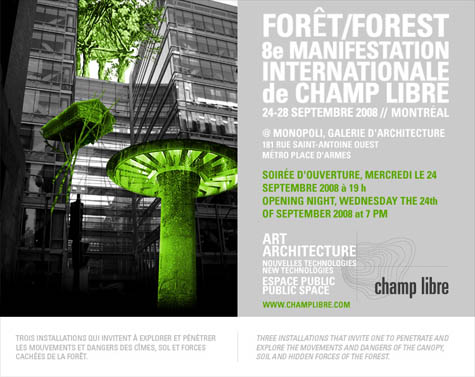 There are
three pavilions
in all: "three installations that invite one to penetrate and explore the movements and dangers of the canopy, soil and hidden dangers of the forest." They include the poetically named "From Chernobyl to Montreal, the Incandescent Zen Garden," whose creators note that "the natural phenomena of radioactivity and sound waves are amplified," with part of the installation "illuminated night and day by a red light, the same one that made the forest – the Red Forest – adjacent to the Chernobyl nuclear reactor vibrate."
This slightly unclear image nonetheless leaves me wondering what the biological effects might be if you could cause a several-acre test-forest to vibrate constantly: what strange roots and branches would grow? Would constant vibration cause radically new tree structures to grow – or just make for some very happy plants?
It'd be like the
sound farm
, only more tactile – and far stranger.
A perpetual earthquake as a lab for cultivating the unnatural.
The other two pavilions, meanwhile, are "The Macrocosm of Fiber or the Filtering Pavilion" and "The Mobile Branch, A Forest of Hypnosis and Vertigo." The latter project, a collaboration between architect
Philip Beesley
– whose work was
explored here
a few years ago – and artist Patrick Beaulieu, is described a kind of animatronic thicket: "A raised three-dimensional flooring and a cover propelled at 300 rotations per minute form a vibrating dance of branches and twigs, constituting a human-sized space of the in-between from which humans are nevertheless excluded."
You wander into a forest – only to realize that it's not a forest at all, but a vast machine...
There are a series of
workshops
on Friday and Saturday, as well – so if you're anywhere near Montreal, check it out! Tell them you heard about it on BLDGBLOG.