Tuesday, June 30. 2009
by Jonathan Watts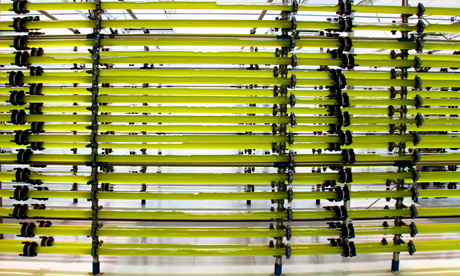 The garish gunk coursing through a greenhouse filled with transparent pipes appears to belong on the set of a particularly slimy episode of Star Trek. Multiplying rapidly as it flows through tubes, stacked 14 high in four long rows, the organism thickens and darkens like the bio-weapon of a deranged scientist. But this is not a science fiction horror story, it is one of humankind's most ambitious attempts to recruit algae in the fight against climate change. Developed by a groundbreaking Chinese firm, ENN, the greenhouse is a bioreactor that breeds microalgae, one of the fastest growing organisms on the planet, with carbon captured from gasified coal.
China is the world's biggest emitter of greenhouse gases, largely because it relies on coal for 70 per cent of its power. Almost none of the carbon dioxide is captured, partly because there is no profitable way of using it. Algae may be the answer. The organism can absorb carbon far more quickly than trees, a quality that has long attracted international scientists seeking a natural method of capturing the most abundant greenhouse gas. At ENN's research campus in Langfang, an hour's drive from Beijing, scientists are testing microalgae to clean up the back-end of a uniquely integrated process to extract and use coal more efficiently and cleanly than is possible today. Coal is first gasified in a simulated underground environment. The carbon dioxide is extracted with the help of solar and wind power, then "fed" to algae, which can be then used to make biofuel, fertiliser or animal feed.
Foreign experts are enthusiastic. "Algae biofuels and sequestration are being tried in a bunch of places, but never with such an innovative energy mix," said Deborah Seligsohn, of the World Resources Institute, who visited ENN recently with a group of international energy executives. "It is really interesting and ambitious." Researchers at the algae greenhouse plan to scale up the trial to a 100 hectare (247 acre) site over the next three years. If it proves commercially feasible, coal plants around the world could one day be flanked by carbon-cleaning algae greenhouses or ponds. "Algae's promise is that its population can double every few hours. It makes far more efficient use of sunlight than plants," said Zhu Zhenqi, a senior advisor on the project. "The biology has been proven in the lab. The challenge now is an engineering one: We need to increase production and reduce cost. If we can solve this challenge, we can deal with carbon." The algae must be harvested every day. Extracting the oily components and removing the water is expensive and energy intensive.
ENN is experimenting with different algae to find a hybrid that has an ideal balance of oil content and growth speed. It is testing cultivation techniques using varying temperatures and acidity levels. Algae tests are also being carried out at the University of Ohio. In Japan, algae is farmed at sea where it absorbs carbon from the air. Elsewhere carbon is sprayed or bubbled into algae ponds. But ENN is focusing on a direct approach. "Here we can control it, like in a reactor," said Gu Junjie, a senior advisor. "Theoretically we can absorb 100% of carbon dioxide emissions through a mix of micro-algae and chemical fixing with hydrogen." This might work on a large scale in the northern deserts of Inner Mongolia, where land is cheap, plentiful and in need of fertiliser. But elsewhere, application may be limited because of the large areas of land or water needed for cultivation. "Algae is not likely to be the main solution for the carbon problem because of the amount of CO2 that needs to be consumed," said Ming Sung, Chief Representative for Asia Pacific of Clean Air Task Force. But, he said: "Algae is part of the solution and is closer to what nature intends. Being one of the simplest forms of life, all it takes is light and CO2 in salt water,"
The advanced algae, solar and coal gasification technology is the latest stage in the rise of ENN, which has been spectacular even by modern Chinese standards. Founded in 1989 as a small taxi company, it has branched successfully into the natural gas industry and now into the field of renewable energy. The private company now employs about 20,000 people, and owns a golf course and hotel near its headquarters in Hebei province, where a new research campus is under construction. In the short term, ENN's advanced underground coal gasification technology is likely to prove more significant than its algae work. This technique enables extraction of fuel from small, difficult-to-access coal seams, and could double the world's current coal reserves. It also avoids the release of the pollutants sulphur dioxide and nitrogen dioxide.
The company is also one of only a small handful in the world capable of mass producing thin-film solar panels, which can be manufactured with less water and energy than conventional photovoltaic materials. Late last year, the World Bank's International Financing Corporation announced a US$136m loan for ENN's solar business. ENN executives have talked to the US department of energy about joint research , a sign that the transfer of low-carbon technologies is no longer a one-way street from west to east. The development of the algae technology trails the others, but Zhu says the results from the 10,000 litre algae greenhouse have been sufficiently encouraging to move ahead.
For the 100 hectare test facility, ENN is looking at sites near the company's 600,000 tonne-a-year coal mine in Ordos, Inner Mongolia, where the cold winters will require a heated greenhouse, and a location on Hainan Island, where the hot weather would allow the algae to be grown more cheaply in open ponds, but further away from China's main coal deposits. China building the equivalent of more than one new 500MW coal-fired plant every week and likely to be dependent on coal for at least two decades, the further studies planned by ENN could be crucial. Recognising the continued role of the fossil fuel in China, the European Commission proposed a plan this week to co-finance a demonstration coal plant that aims to have near zero emissions through the use of carbon capture and storage technology.
If members states and the European parliament agree on the €50m plan, the facility would be operational by 2020.
This piece originally appeared in Guardian Environment..
-----
Via WorldChanging
An article in the most recent issue of the Atlantic Monthly explores aggressive "geo-engineering" projects:
"Humans have been aggressively transforming the planet for more than 200 years. The Nobel Prize–winning atmospheric scientist Paul Crutzen—one of the first cheerleaders for investigating the gas-the-planet strategy—recently argued that geologists should refer to the past two centuries as the "anthropocene" period. In that time, humans have reshaped about half of the Earth's surface. We have dictated what plants grow and where. We've pocked and deformed the Earth's crust with mines and wells, and we've commandeered a huge fraction of its freshwater supply for our own purposes. What is new is the idea that we might want to deform the Earth intentionally, as a way to engineer the planet either back into its pre-industrial state, or into some improved third state. Large-scale projects that aim to accomplish this go by the name "geo-engineering," and they constitute some of the most innovative and dangerous ideas being considered today to combat climate change. Some scientists see geo-engineering as a last-ditch option to prevent us from cooking the planet to death. Others fear that it could have unforeseen—and possibly catastrophic—consequences. What many agree on, however, is that the technology necessary to reshape the climate is so powerful, and so easily implemented, that the world must decide how to govern its use before the wrong nation—or even the wrong individual—starts to change the climate all on its own."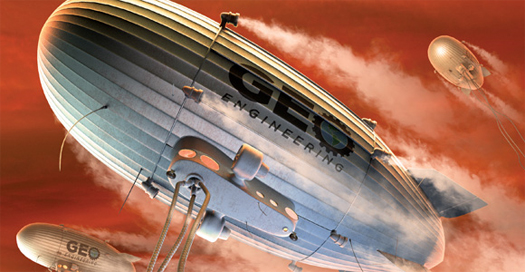 A permanent fleet of ships sails the globe, churning the ocean with special propellers to spray seawater into the air and make clouds whiter and fluffier. A battery of twenty electromagnetic guns, "each more than a mile long and positioned at high altitudes", that would fire tens of millions of ceramic frisbees at the gravitational midpoint between the earth and the sun, putting "the Earth in a permanent state of annular eclipse". Hovering zeppelins spew sulfur dioxide into the air, turning the sky red at sunset. Forests of Freeman Dyson's genetically engineered trees hungrily suck carbon out of the air. Vented structures, similar to industrial cooling towers, are filled with grids coated in a solution that captures carbon; the captured carbon is then scrubbed off the grids and sequestered deep below ground in exhausted oil wells. Antarctic waters are seeded with iron, producing massive plankton blooms that cool the globe.
Perhaps the most unexpected (and frightening) turn in the Atlantic article is the suggestion of a worst-case scenario in which a "rich madman… obsessed with the environment" or "a single rogue nation" sets one of these plans into motion unilaterally, with potentially disastorous global side-effects — in the case of the sulfur aerosols, for instance, it is quite likely that any interruption of the supply of aerosols would produce immediate and catastrophically rapid climate change. An appropriately sobering possibility to consider, for though the scenarios seem outlandish(ly exciting) and the risks are real, they are being given hearing not just at the fringes of scientific debate, but at bodies like the National Academy of Sciences.
-----
Vis Mammoth
Sensors track devices' electricity, water, and gas consumption from one spot.
By Kate Greene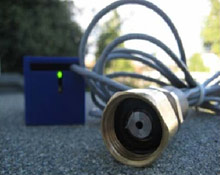 Finding the flush: This sensor attaches to a water pipe and wirelessly communicates changes in pressure to a microcontroller that infers the use of specific fixtures. A Bluetooth transmitter streams the data to a personal computer.
Credit: Shwetak Patel When a cell phone or credit-card bill arrives, each call or purchase is itemized, making it possible to track trends in calling or spending, which is especially helpful if you use a phone plan with limited minutes or are trying to stick to a budget. Within the next few years, household utilities could be itemized as well, allowing residents to track their usage and see which devices utilize the most electricity, water, or gas. New sensor technology that consists of a single device for each utility, which builds a picture of household activity by tracing electrical wiring, plumbing, and gas lines back to specific devices or fixtures, could make this far simpler to implement.
-
Shwetak Patel, a professor of computer science and electrical engineering at the University of Washington, in Seattle, developed the sensors, which plug directly into existing infrastructure in buildings, thereby eliminating the need for an elaborate set of networked sensors throughout a structure. For example, an electrical sensor plugs into a single outlet and monitors characteristic "noise" in electrical lines that are linked to specific devices, such as cell-phone chargers, refrigerators, DVD players, and light switches. And a gas sensor attaches to a gas line and monitors pressure changes that can be correlated to turning on a stove or furnace, for instance.
Now, Patel and his colleagues have developed a pressure sensor that fits around a water pipe. The technology, called Hydrosense, can detect leaks and trace them back to their source, and can recognize characteristic pressure changes that indicate that a specific fixture or appliance is in use.
Patel hopes to incorporate electrical, gas, and water sensors into a unified technology and has cofounded a startup, called Usenso, that he hopes will start offering combined smart meters to utility companies within the next year or so. The goal, says Patel, is to make a "smart home" universally deployable. "I looked at the existing infrastructures," he says, "and saw that they could be retrofitted."
Smart sensors have become increasingly popular over the past few years as more people have become interested in cutting their utility bills and minimizing the resources that they consume. A number of startups offer to connect utility providers and consumers so that resource use can be tracked over the Internet. So far, however, no company or utility has been able to provide the sort of fine-grain resource usage that Patel hopes to offer with Usenso.
The idea behind the water sensor has its origins in Patel's original work with electrical lines. Rather than simply looking at the amount of power consumed by all the devices in a house, he decided to look at noise patterns--irregularities in the electrical signal--that propagated over household power lines as a result of electrical consumption. "Let's say you turn on a light switch in the bathroom and kitchen," he says. "We can tell the difference between the two" due to electrical impulses that resonate at a high frequency. "So if you have two different impulses you see originate from two different locations inside the home, you can trace them back to a particular device," Patel says, noting that location can be determined by the amount of time that it takes for a signal to reach the sensor, which is usually just plugged into a spare wall outlet.

Likewise, Hydrosense consists of a single device attached to a cutoff valve or water bib that monitors the entire plumbing infrastructure. "When you open a valve, the pressure on the entire system goes down," says Patel. "And whenever you change the water flow from static to kinetic, you get a shock wave that propagates throughout the pipes." He explains that the shock wave, while relatively mild, has a characteristic shape that can be used to identify different fixtures--even the distinction between the toilets in different bathrooms.
Using data collected in nine homes of varying style and age and with a diversity of plumbing systems located in three different cities, Patel and his colleagues have shown that by monitoring these shock waves, it is possible to identify individual fixtures with 95.6 percent accuracy.
"The idea of being able to plug one device into a home and build a picture of what's going on and off is really fascinating," says Adrien Tuck, CEO of Tendril Networks, a company that makes smart meters and plugs for homes. But he suspects that there will be some kinks to iron out before the technology is deployable at a large scale. "If it were easy, it would have been done already," he says, "and that probably means that there are some things that need to be teased out."
In addition to monitoring utility usage, Patel says that the sensors can track human activity within a home, which could be useful for elder care and reducing energy waste. He has also developed a fourth sensor that can be integrated into a home's heating and cooling systems. By monitoring pressure changes that occur when people open and close doors and when they enter and exit a room, a sensor within an air-conditioning unit can infer with relative accuracy where people are within a home or apartment, Patel says.
Copyright Technology Review 2009.
-----
Friday, June 26. 2009
By Associated Press
WASHINGTON (AP) -- Defense Secretary Robert Gates formally ordered the creation Tuesday of a new military cyber command that will coordinate the Pentagon's efforts to defend its networks and conduct cyberwarfare.

A three-page memo signed by Gates orders U.S. Strategic Command to begin plans to set up a subcommand and be prepared to provide an implementation plan by Sept. 1, and begin initial operation no later than October.

Officials have said the new command would be located at Fort Meade in Maryland, and would be fully ready to go by the end of next year. Gates said in his memo that he is recommending that the director of the National Security Agency -- currently Lt. Gen. Keith Alexander -- be tapped to lead the command, in a dual role with his current responsibilities. That job would be upgraded to a four-star general slot.

"Our increasing dependency on cyberspace, alongside a growing array of cyber threats and vulnerabilities, adds a new element of risk to our national security," said Gates in the memo, which was obtained by The Associated Press.

He added that the new command "must be capable of synchronizing warfighting effects across the global security environment as well as providing support to civil authorities and international partners."

While the reorganization is just beginning, one senior defense official said the command is not expected to be very large. It would likely involve hundreds, rather than thousands of employees, the official said, speaking on condition of anonymity to discuss internal decisions.

The low-key launch of the new military unit reflects the Pentagon's fear that the military might be seen as taking control over the nation's computer networks.

Creation of the command, said Deputy Defense Secretary William Lynn at a recent meeting of cyber experts, "will not represent the militarization of cyberspace."

Lynn said the focus of the command will be on the military's 15,000 networks and its seven million computers, noting that commanders depend on those systems in battle. The military, he said, needs to be able to respond to any intrusion or attack "at network speed."

Rep. Howard "Buck" McKeon, R-Calif., ranking Republican on the House Armed Services Committee, said he was pleased with the move to increase the military's capabilities in cyberspace, and he urged the Pentagon to work with lawmakers as plans progress. House and Senate members have been working on legislation aimed at bolstering the nation's cyber coordination.

Pentagon officials have stressed in recent weeks that the cyber command will not infringe on the Department of Homeland Security, which is the lead agency for other federal digital systems.

President Barack Obama has announced plans to name a cyber coordinator for the White House, in order to better coordinate the nation's efforts to protect critical computer networks and work more closely private industry, which owns or controls key financial, electrical and other systems.

The U.S., Obama said earlier this month, is not as prepared as it should be to face threats of cyber espionage or other attacks.

Government and military officials have acknowledged that U.S. computer networks are constantly assailed by attacks and scans, ranging from nuisance hacking to more nefarious probes and attacks. Some suggest that the actions at times are a form of cyber espionage from other nations, such as China.

Officials earlier this year disclosed that there was an attack against the electrical grid, and computers at the Pentagon were infected by a virus.

On the Net:

Defense Department: http://www.defenselink.mil

Copyright 2009 The Associated Press.


Copyright Technology Review 2009.
-----
Personal comment:
Terme de science-fiction il y a encore 15 ou 20 ans, la "cyberwar" devient effective et la création de ce centre de commande US entérine le fait que l'on co-existe désormais avec l'univers "virtuel", avec tous les mashups que cela peut induire (dont celui-ci, pas le plus alléchant...)
Putting OLPC's software on a USB drive gives old PCs a new lease on life.
By David Talbot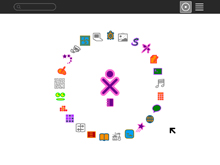 Sugar coating: The Sugar interface is designed for children. Bundled programs help users engage in reading, writing, math, painting, and game playing, and emphasize creativity and collaboration.
Credit: Sugar Labs
Multimedia
The open-source education software developed for the "$100 laptop" can now be loaded onto a $5 USB stick to run aging PCs and Macs with a new interface and custom educational software.
"What we are doing is taking a bunch of old machines that barely run Windows 2000, and turning them into something interesting and useful for essentially zero cost," says Walter Bender, former president of the One Laptop per Child (OLPC) project. "It becomes a whole new computer running off the USB key; we can breathe new life into millions of decrepit old machines."
Bender left OLPC last year to found Sugar Labs, which promotes the open-source user interface, dubbed Sugar, and educational software originally developed at OLPC. Bender has dubbed the new effort Sugar on a Stick. The software can be downloaded for free from the Sugar Labs website as part of the new initiative, which will be announced at a conference in Berlin today.
This summer, Sugar Labs will also deploy the software at the Gardner Pilot Academy, an elementary school in Boston, under a $20,000 grant from the Gould Charitable Foundation. Sugar Labs also plans to release an improved version of the software at the end of 2009.
The Sugar interface was custom-designed for children. The new Sugar on a Stick download features 40 software programs, including core applications called Read, Write, Paint, and Etoys. Many other applications are available for download, most of which emphasize creative collaboration among children. The USB software can boot up an aging computer, or a netbook, and save data from any of the programs.
In addition, Sugar-powered machines are designed to work with server software that can also be downloaded for free. This server software can be operated by a school and used to distribute content, collect homework, back up data, and filter access to the Internet. Once Sugar and the server software have been installed, two children using different computers can work on the same document at the same time, for example.
The Sugar interface and related software have already been used by more than one million children, nearly all of them users of the original OLPC XO laptop.
Bender's departure from OLPC came after a disagreement over the organization's plans to break away from a pure open-source approach and offer a "dual-boot" version of its laptop that could also run a stripped-down version of Microsoft's Windows operating system, something Bender said he feared would make OLPC "just another laptop company." But Nicholas Negroponte, founder of OLPC and, previously, cofounder of MIT's Media Lab, said that the move was necessary to boost sales and, consequently, expand the availability of the machines to children.
Despite some large-scale deployments, such as one in Peru, the XO has fallen short of Negroponte's ambitious plans: in 2006 he was predicting sales of more than 100 million machines by 2008.Negroponte said last night that almost a million children have XO laptops, in 19 languages and 32 countries, including Haiti, Rwanda, Afghanistan and Mongolia, and that "another million are in process." But even if its own laptop sales were relatively modest, OLPC essentially pioneered the netbook concept, prodding the industry to start making small, stripped down, cheap computers, which are now a significant share of the computer market.
And now, with Sugar available to run old computers, the OLPC learning model can expand in a new direction. "Putting Sugar on a stick is absolutely the right thing to do," Negroponte added.
Copyright Technology Review 2009.
-----
Personal comment:
Dans l'idée du développement durable (ou plutôt de la récupération ici), c'est évidemment une bonne initiative que de donner une deuxième ou troisième vie à un pc! Pour un coup dérisoire. L'interface, par contre... (bureau pour les grands, sucre pour les petits... un peu réducteur non?)