Quicksearch
Your search for
paisajes emergentes
returned
4
results:
Thursday, March 17. 2011
Via dpr-barcelona
-----
I've discovered this new electronic technique that creates new speech out of stuff that's already there.
Brian Eno
Iceland is volcanically and geologically active. The interior mainly consists of a plateau characterised by sand fields, mountains and glaciers, while many glacial rivers flow to the sea through the lowlands. In this context, Eyjafjallajökull is one of the Iceland's smaller ice caps located in the far south of the island. It covers the caldera of a volcano 1,666 metres [5,466 ft] in height that has erupted relatively frequently since the last ice age. Eyjafjallajokull most recent eruptions in 2010 were the cause of huge disruption to air travel across western and northern Europe and also caused big impact on farming, harvesting or grazing livestock. We can also read that samples of volcanic ash collected near the eruption showed a silica concentration of 58%—much higher than in the lava flows.
Interesting context for an architecture and landscape course, isn't it?
Focused on understanding the complex reality of nonbuilt environments beyond poetic contemplation or scientific analysis, The Collector, On Ash Clouds is a course at the Master in Landscape Design Program from Harvard GSD with Paisajes Emergentes as visiting professors, which aims to register, interpret and draw weather and natural phenomenon with the intention of use the generated archive as raw material for the design process of any landscape project.
The course was divided into three major bodies of research*, which was done between a visited site [USA] and a non visited place [Iceland]:
[1] Weather and atmosphere
Natural phenomena are the raw materials used to generate a projected landscape. In this way architecture is not separated from Phenomena, it doesn't resist them or reject them, it lets them interact. When a given site has no expressive natural phenomena, or none that are appealing to us, we should consider the possibility of de-contextualizing a foreign phenomenon and artificially relocating it.
[2] Emerging Landscapes
Architecture reacts to sites. But we are not interested in poetic, pictorial or nostalgic relationships with locations; instead we look for its emerging qualities to make visible what lies somehow unseen to the public. Our projects want to become systems by which what is concealed becomes manifested. Those manifestations may end up being violent, wild, slow, or may not happen at all. We acknowledge architecture's limitations in predicting the behavior of nature over time and we accept the risk involved, and make it part of the project.
[3] Drawings and photography
As we conceive them, pictures aren't just means to represent projects; actually they are design tools at early stages. They permit intuitive speculation on the sceneries the project might face. Sometimes they are precise sketches, others raw collages pointing at interesting aspects. Photography has been a core element to our work, as it lets us document places that we later decontextualize to be used as raw material for design. You could say some projects are just like those images we produced while traveling: collages of things one has seen or wants to see. In addition, photography has allowed us to bridge limitations of architecture's typical products since weather, deterioration or atmosphere may be otherwise difficult to draw.
The course lasted one week [in January 2011] during some of the most intense days of Boston's winter. Within that week, the students did a quick exercise of research and then proposed an observatory project, working with unpredictable and violent natural phenomenon as the core of the research. As the instructors Luis Callejas and Sebastian Mejía [from Paisajes Emergentes] pointed: "It can be difficult to determine the boundaries of a complex natural system. The decision is ultimately made by the observer."
Luis Callejas also told us via e-mail:
We chose Iceland because it is a very special place… I was there a year ago. The island acts as an observatory. As an island, its environmental conditions are defined by its geological position and all the natural phenomena seems to be amplified. As if geologic time somehow goes faster than human activity in a place with about 300,000 inhabitants.
Working with the ash cloud generated by 2010 eruptions of Eyjafjallajökull volcano, the group studied the conditions and effects that emerged due to this event, and its relation with issues like air navigation, the phenomenon of turbulence, and the possible effects on the island's ecosystem, among others.

Eyjafjallajökull volcanic ash composite. Source: wiki
The idea of analyzing and working with issues like storms and islands also reminds us the Glacier/Island/Storm studio at Columbia GSAPP by Geoff Manaugh. As Rob Holmes pointed on mammoth:
A possibility: glaciers, islands, and storms are as much events as they are objects; as events, they are primarily composed of processes of accretion and erosion. A storm is a relatively brief event, a glacier is a very long event, and an island is an even longer event [emphasize ours]; yet all are, on a geological time scale, ephemeral.
From statements as "Building is not always edifying: designing with what is already there", the students have worked on the perspective of investigative landscape design and its important role in history, architecture and imaginative creation. The result is a powerful intensification of emerging landscape conditions as possible solutions to design problems. If Brian Eno once said "For the world to be interesting, you have to be manipulating it all the time.", now we're going to visualize geologic time by looking into the past as a way to look into the future, through the student's eyes and their proposals to "manipulate the world".
And such as a long event as an island is, we're going to analyze and write here a series of five post [this, the first one] to talk, using the student's projects as study cases, about all the possibilities that are contained in the research of this kind of natural phenomena and how they can affect our architectural thinking and our response to environmental crises.
……………………………………………………………
* Text of the three main corps of the studio taken from the course presentation.
- All images, except those specified, by Luis Callejas. Taken on Iceland in August 2010
Harvard GSD Course. Master in Landscape Architecture
Visiting professors: Paisajes Emergentes. January 2011
Students:
Alexander Arroyo, Siobhan Aitchison, Erik Andersen, Kunkook Bae, Senta Burton, Sherry Chen, Rachel Cleveland, Tracie Curry, Heather Dunbar, Lauren Elachi, Michael Easler, Katie Hotchkiss, David Knugi, Kara Lam, Jack McGrath, Connie Migliazzo, Emely Milliman, Madeleine Murphy, Chris Myers, Eunsae Park, Andrew Leonard, Michael Luegering, Lindsey Nelson, Mia Scharphie, Erika Schwarz, Kate Smaby, Heather Sullivan, Xiaowei Wang, Yuyu Wang, Anne Weber, Yizhou Xu, Xin You, Jeongmin Yu, Chuhan Zhang
Instructors: Luis Callejas, Sebastián Mejía, Lukas Pauer
Monday, August 16. 2010
Via Pruned
-----
by Alexander Trevi
(Image by Paisajes Emergentes and Lateral Office.)
Paisajes Emergentes
and
Lateral Office
have teamed up together to design a "shape-shifting energy generation park" in Abu Dhabi as their entry for the
Land Art Generator Initiative
competition.
(Image by Paisajes Emergentes and Lateral Office.)
The team's project statement is worth quoting at length:
Unlike current renewable energy fields where technologies are publicly inaccessible, static, and always on, WeatherField offers a range of public engagement dependent upon wind, sun, and moisture. Energy generation becomes a public performance, dynamic, reactive, and interactive. The park is active when weather events are active, and calm when weather is calm, in each instance offering the public a compatible experiences.

The park is organized and designed to respond efficiently and creatively to climate. The intention is that the park serve as a barometer of regional weather events. WeatherField is simultaneously a public space, a dynamic energy icon, and a public weather service. The field is a registration of daily weather events including weather events such as Shamals winds, dense fog, and sandstorms, among others.

The Yas Island energy park is comprised of a field of 200 "Para-kites," each is equipped with a base station of two flexible posts. Except for the posts that tether the para-kites, the ground and aquatic ecology is undisturbed. The para-kites use a parafoil system to remain aloft and a Windbelt™ system to harvest "flutter" energy from the wind.

At the Yas Island test site, the 200 para-kites extend across the site in a 60 meter grid that marks the tide levels. Each para-kite is capable of 6,220 kwh annually. Preliminary calculations generate approximately 21.6 kwh/month for each cell of the para-kite. With 24 cells per para-kite, that yields 518.4 kwh/month for each para-kite. Across the WeatherField, we calculate 1.24 GW annually, or about 620 energy-efficient homes. Or, more colloquially, each para-kite is able to power three homes for a year.
Whether these calculations are accurate or not, it should be noted that the competition is an art competition, and entrants were briefed to conceive their installations as art first and power plants second. The goal was not to design and engineer a device that provides cost effective renewable energy generation. Rather, the proposal should function primarily on a conceptual and aesthetic level.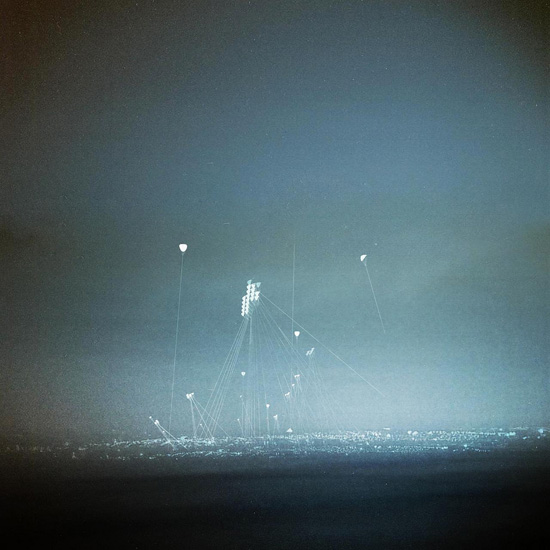 (Image by Paisajes Emergentes and Lateral Office.)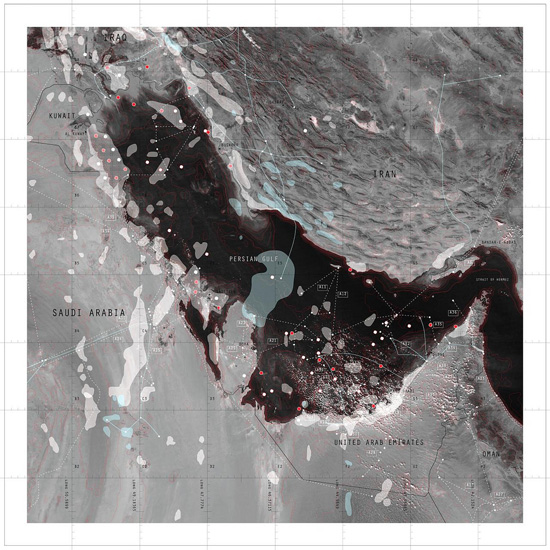 (Image by Paisajes Emergentes and Lateral Office.)
Quoting the brief again at length:
As a park, visitors or residents can witness and experience their commitment to renewable energy field in many different ways. They can be stake holders, investing in a single generator para-kite. The investor receives energy equivalent to that harvested by that generator, as well as a live feed view of the landscape from the para-kite into their home. This in house artwork serves a weather gauge and a 'living' landscape painting. Visitors to the energy park can also approach the support posts and have a 'periscope' view from the ground of the para-kite's view. And finally, a visitor, may elect—with managed permission—to ride up in a para-kite. This allows the economic models for the implementation of the project to be distributed either before, through residential stakeholders, or after capital costs, through tourism. The project has an entrepreneurial spirit.

The park generates other phenomenal events such as playful shadows on the ground and dynamic patterns in the sky. These geometries could be commissioned to environmental artists, or could be coordinated with regional events or seasonal holidays.

Unlike large-scale energy infrastructures that are out-of-scale, off-site, and off-limits, WeatherField is interactive, and its energy capacity is scalable to the size of a single-home. In other words, energy use is quantifiable and qualitative at the scale of a single user, promoting energy efficiency and energy consciousness.
Be sure to check the Land Art Generator Initiative website for other entries, which are being posted one by one on their
blog
until the winner is announced in January 2011 at the World Future Energy Summit in Abu Dbahi.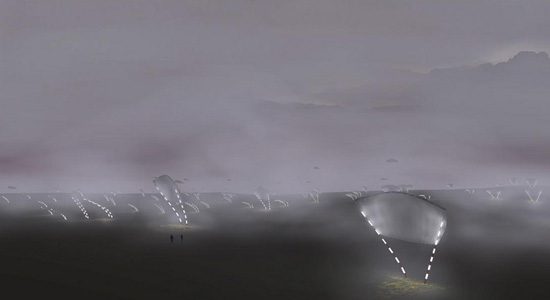 (Image by Paisajes Emergentes and Lateral Office.)
More Paisajes Emergentes:
Parque del Lago
Rainwater Harvesting in Quito
A Proposal for an Aquatics Complex
Four Plazas and A Street
Clouds
See also:
Balloon Park
Friday, February 26. 2010
by Sebastian J.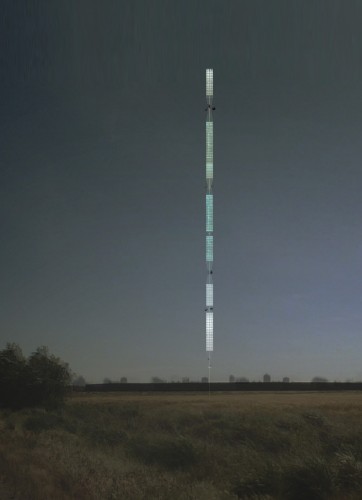 Colombian architects Paisajes Emergentes received second prize for their proposal for the Townshift International Competition in Canada.
More images and architect's description after the break.
The structure.
Certainly the least interesting thing that a vertical tower can do is to display a welcome sign. Vertical structures can support diverse¨and specialised functions such as communications, energy collection, weather forecasting and are always the most interesting places to experience great views over distant landscapes.
The Fleetwood marker is a dematerialized tower, it is lighter than air and it's structure ties it to the ground instead of supporting it's own weight: It is made with clusters of weather balloons filled with helium.
What is interesting about balloons is that with enough cubic meters of helium they can replace traditional static structures based on heavy steel. The tower ends up being lighter than air. It is not a skyscraper, it is more related with a zeppelin or the now common helium balloons used around the world to serve as viewing platforms. It is something that will be affected by the weather, like a vertical cloud, or simply something very strange happening in the sky welcoming the city´s visitors and inviting them to climb up to have a better view of Mount Baker.
The installation:
"We drive an astonishing 6.3 billion miles every day in the U.S. If the kinetic energy generated by moving vehicles was captured at any given moment, it could produce enough electricity to power over a quarter million homes each day." Fraser highway will be covered with a kinetic carpet systems already available. It's length will be enough to power the installation and some pilot houses in the city with completely clean energy from the pressure of the passing cars. The vertical balloon clusters of the tower will be in correspondence to the horizontal areas of the highways destined to harvest the energy. The electricity generated by the cars movement will illuminate the installation at night showing a contemplative vertical color light show of what is happening on the highway.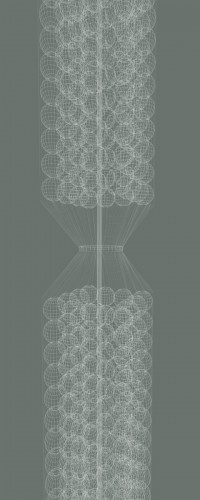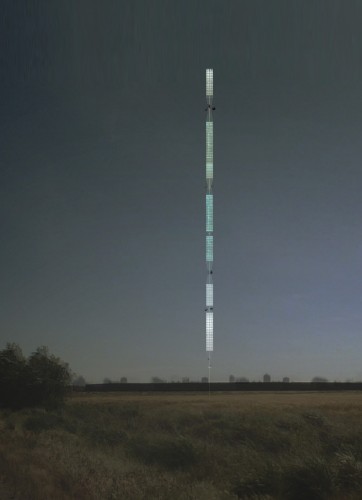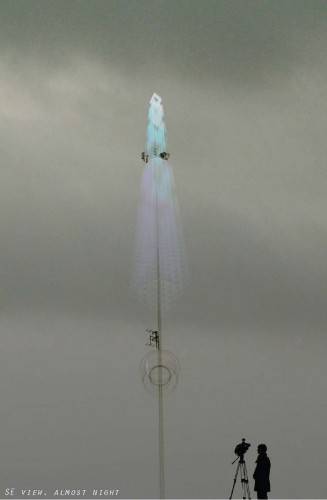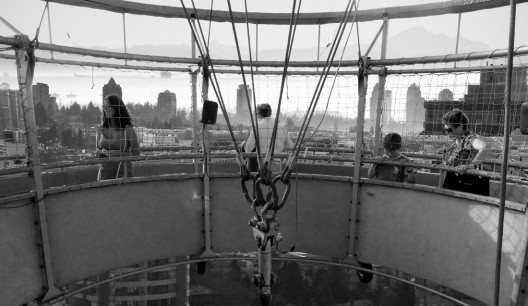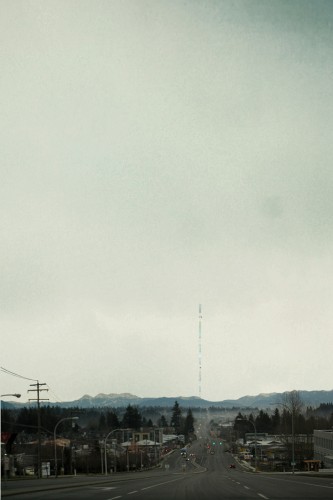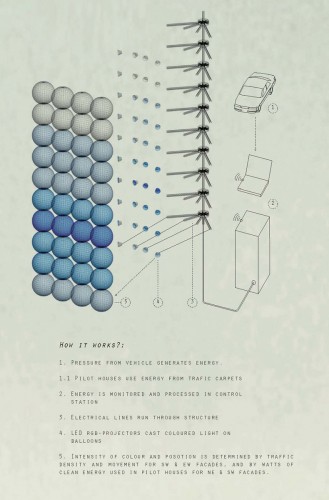 -----
Via ArchDaily
Tuesday, November 18. 2008



In August this year, a design competition was launched to generate ideas to repurpose Quito's Mariscal Sucre International Airport after its planned closing in a couple of years.

According to the organizers, "the coming availability of 126 hectares of space with a flat topography, located in the midst of a consolidated area, which thanks to the decision of the Quito Metropolitan Council, will be transformed into a park, constitutes an exceptional event and a unique opportunity. This leads us to rethink the city and to take advantage of the opportunity to set forth solutions to multiple issues linked to: changes in the use and building capacity of land; improvement in mobility and transversal connectivity; expansion of infrastructure; provision of green areas and public spaces; improvement in environmental conditions, recovery of urban landscapes and environment; improvement of the quality of life of present and future inhabitants of the city."

We only learned of this competition, because two teams that had submitted entries uploaded their images onto their Flickr accounts after the results were announced late last month. Both projects are quite spectacular, visually gorgeous and brimming with ideas. We'll post them separately, and should we find more entries and like what we see, we'll publish them here as well.

The first team, then, is Paisajes Emergentes, a studio collective based in Medellin and Bogota, Colombia. Its members include Luis Callejas, Edgar Mazo and Sebastian Mejia.

This is their Second Prize-winning entry, in all its linear awesomeness.





Per the competition brief, water has to be central element in the design. After all, the organizers refer to the future park as Parque del Lago.

In response, Paisajes Emergentes flooded the 3-kilometer runway to create an "active hydrologic park," which they then partitioned into 6 programmatically discrete areas.






1. At the north end of the park are wetlands. These bioremediate water redirected from the south end of the park after having run its course through this outrageously elongated pool.

2. Relatively clean water from the wetlands is then used to fill an open air aquarium. The tanks here contain fluvial species from tropical ecosystems.

3. An aquatic botanical garden comes next in this hydrological assembly line. Whereas the faunal variety is showcased in the aquarium, tropical plants are the main attractions here, though both are equally essential to maintain any kind of a robust ecosystem.

4. From there, water moves into circular water tanks, where it is mechanically oxygenated and filtrated. Pedestrian walkways involve people with an infrastructure and a process that are usually hidden from them. Meanwhile, one has to question the placement of these tanks. Shouldn't it be at the head of the line to take care of the heavy duty stuff? Given the park's closed system and the proven ability of constructed wetlands to improve water quality biologically, is a "conventional" treatment plant, of that scale, even necessary?

5. In any case, the water must meet legal standards of quality if they are to fill the public pools and thermal baths. A combination of wind and solar energy is used to heat this aquatic complex.

6. Finally, we come to a recreational lake, where the water is collected in subterranean tanks to satisfy the need of irrigation systems and general maintenance of the park before.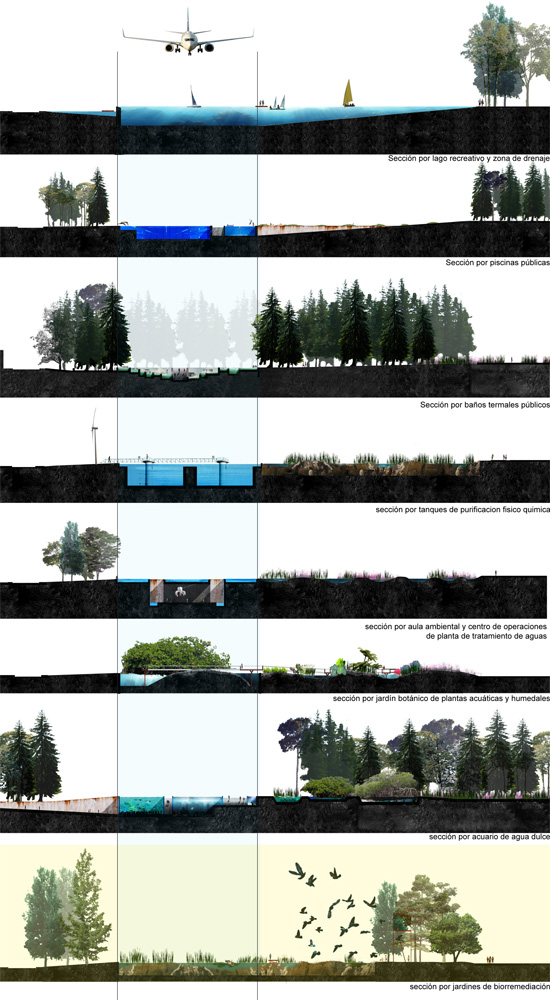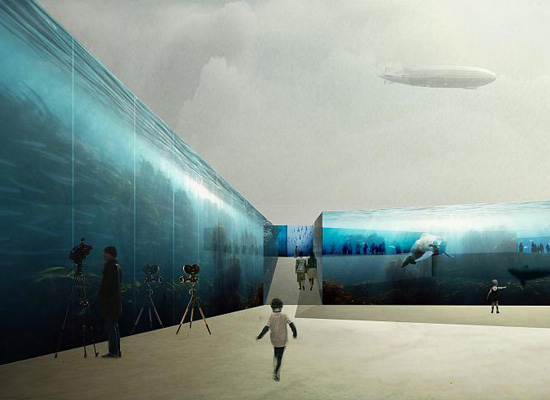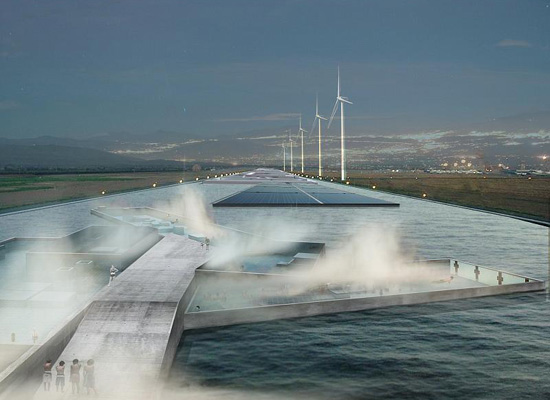 Additional activities are also programmed adjacent to this central pool. For instance, the old terminal building is turned into a convention center. Soft materials and walls are removed, and the remaining forest of columns confine 3 theaters inside hanging gardens.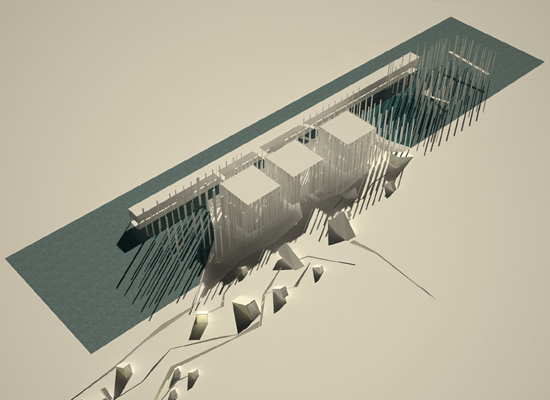 There is also an open air aviation museum, where a fleet of planes are allowed to rot in their obsolescence. A wetland fed by waters from the botanical garden is allowed colonize this area. In time, the planes become a sort of Picturesque ruins of the industrial age, sinking into deep mire, crumbling in the wilds.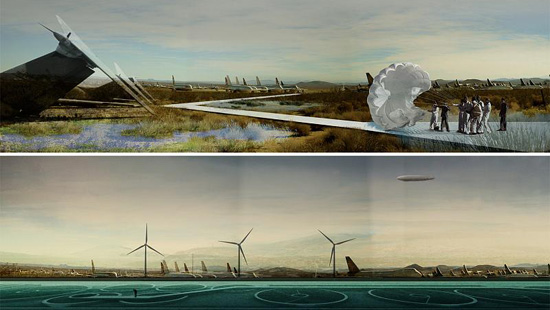 Meanwhile, it would have been nice to see how the park relates to its context, apart from suggesting amenities the local community may (or may not) need. Graphically, the site looks divorced from the urban grid. All paths radiate out of the terminal building and one parking lot on the other half, then terminate just before they reach the edge of the park. Opportunities for more meaningful connectivity between the surrounding neighborhoods and between the north and south parts of the city seem to have been missed.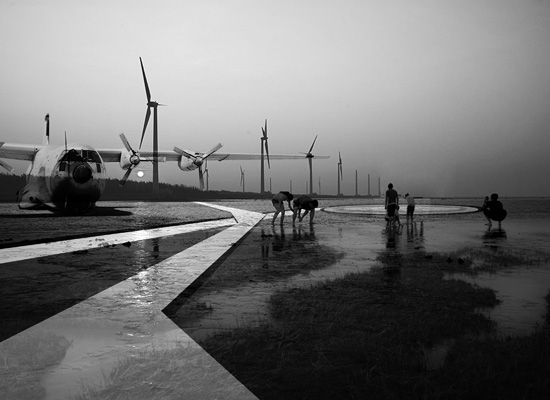 For more images, visit the Flickr account of Paisajes Emergentes.


Dispatches from a Post-Water Chicago
Treating Cancer with Landscape Architecture
Treating Acid Mine Drainage in Vintondale
-----
Via Pruned
Personal comment:
Beau projet, à la fois monumental et post-industriel, post-global, écologique. Et des idées pour Tempelhof...