Tuesday, September 30. 2008
Le sol de la planète rouge est passé au crible par Phoenix.[Keystone]

Une zone habitable?

"Y a-t-il une zone habitable sur Mars? Je pense que nous approchons de cette hypothèse" a estimé le scientifique en chef de l'université d'Arizona, Peter Smith. Cependant, le sol est sec et aucune trace d'eau n'apparaît à la surface.

L'explorateur de Mars, la sonde Phoenix, a découvert des traces d'eau anciennes sur Mars et, surtout, aperçu pour la première fois de la neige tomber sur la planète rouge, ont révélé lundi les scientifiques qui pilotent la mission.

Les analyses de sol ont permis de découvrir deux minéraux présents dans l'eau quand elle se présente sous sa forme liquide. Les scientifiques ont identifié du carbonate de calcium, présent dans la craie et le calcaire, et du silicate.

Nuages de neige

Un laser porté par la sonde a détecté de la neige qui tombait de nuages à environ 3 km de sa base actuelle, dans les plaines arctiques du nord de Mars. Toutefois, elle avait disparu avant de toucher le sol.

Une des principales découvertes de cette mission est d'avoir pu prouver la présence de glace sur Mars. Les chercheurs soupçonnaient depuis longtemps que de l'eau gelée devait se trouver enfouie dans les plaines septentrionales, sur la base de mesures effectuées par un satellite en orbite.

La sonde a aussi montré que le sol était légèrement alcalin, et contenait des nutriments et des minéraux. La mission de trois mois sur Mars visait à déterminer si l'environnement de la planète pourrait être accueillant pour des êtres vivants.

ap/cht
Personal comment:
Intéressant de voir que les scientifiques de la Nasa se posent la question de la définition d'une zone habitable, à l'échelle d'une planète (Mars). Il serait alors encore plus intéressant de connaître leurs critères... et pour quel type d'habitabilité! Probablement évidemment la température, la présence ou la possibilité de l'eau, un sol fertile comprenant des nutriments, de l'énergie, etc. - Nous avions évoqué, à propos du projet RealRoom(s) (http://realrooms.fabric.ch), un élargissement des référentiels climatiques du système de climatisation (du bâtiment administratif de Nestlé) à l'échelle de la planète, puis évoqué (sans le faire) une sorte de re-distribution des fonctions à l'intérieur de ces différents climats et du bâtiment. Dont certains, évidemment, devenaient inhabitables ou temporairement habitables (trop froids, perpetuellement nocturnes, etc.). Je vois un parallèle entre le projet RealRoom(s) et ce que font les scientifiques de la Nasa en terme d'étude des zones d'"habitabilité" sur Mars... Tout comme je vois un parallèle entre la distribution mondiale des fonctions de production selon des critères climatiques et/ou économiques à l'ère de la globalisation et la définition d'une zone habitable à l'échelle d'une planète. Il s'agit dans les deux cas de la définition d'un programme fonctionnel (production/exploitation de ressources, habitation) à l'échelle planétaire, en fonction de critères climatiques, énergétiques et/ou économiques.
In What Should be Automated?, Matti Tedre discusses the fundamental flaw in the debate around automation. The question should not be "what should be automated?" but instead "How can one automate things efficiently and reliably?", which then shifted to "why things should be automated?":
"since the 1980s the focus in computing research has been gradually broadening from the machine and automation toward how and where computers are used, the actual activities of end users, and how end users collaborate and interact
(…)
Neither the theoretician's question "What can be efficiently automated?" nor the practitioner's question "How can processes be automated reliably and efficiently?" include, explicitly or implicitly, any questions about why processes should be automated at all, if it is desirable to automate things or to introduce new technologies, or who decides what will be automated."
Why do I blog this? preparing a presentation about failed futures, including some elements about the problems caused by "automation". The author of the paper argues that the shift from what to how/why lead computing researcher to a situation where they really have to pay attention to " the needs, wants, hopes, expectations, wishes, fears, concerns, and anxieties that people have regarding technology".
Personal comment:
Un petit insert du blog de Nicolas Nova qui pose la (bonne) question: les "choses" doivent-elles être automatisées, si oui comment et pour faire quoi? L'automatisation (la "domotique" en architecture) est aujourd'hui une activité par défaut où l'on automatise simplement des comportement fonctionnels du bâtiment, sans se poser la question du pourquoi. Mais surtout, sans se poser la question de ce que pourrait produire une telle approche en terme de formes & fonctions architecturales. En quoi cela pourrait transformer le bâtiment.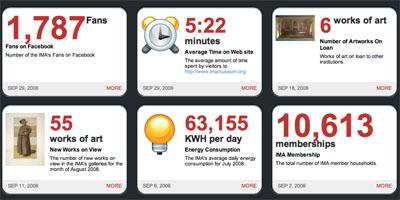 An online information dashboard for the Indianopolis Museum of Art, which attempts to measure & visualize various aspects of the museum's performance. The goal of this dashboard is to seek to quantify & report out on areas of activity of general interest to museum observers & to particular interest to museum studies specialists, colleagues & patrons. tracked data attributes include "Fans on Facebook", "KWh per Day Energy Consumption" & "Number of Art Works on Loan".
[link: imamuseum.or|via serialconsign.com]
Monday, September 29. 2008
Friluftskino: Experiments in open-air surveillance cinema
Every day from 13th to 20th of September at 21h.
Throughout the city of Oslo. Rain or shine. Popcorn and seating provided.
An after effect of the consumer use of wireless surveillance technology is the production of images. These video images, incidental in nature, are easily intercepted while walking through the streets with a video scanner, creating an alternate journey into the non-places of the city created through surveillance use. Spatial boundary conventions of private and public, inside and outside are challenged by the reality of the radio transmission which moves beyond walls and onto the street. By accessing these images one is also offered a view into how the public depicts and represents itself through the use of these readily available technologies and a glimpse into the ways the city itself is redefined and restructured through migratory and economic flows and shifts.
| | |
| --- | --- |
| | |
For 'Frilufts Kino', the city of Oslo will provide the source and the projection surface for an open-air cinema. Once a day, for a period of seven days, different places throughout the Oslo districts of Grønland and Grunerløkka will be used as locations for a 'Frilufts Kino'. Using a powerful video beamer and video scanner, live surveillance intercepted from wireless CCTV cameras will be captured and then rebroadcasted upon the city walls.
The live transmission will ideally last as long as a feature length film. The extended time of the intervention is intended to allow one to contemplate the live image which, contrary to being titillating and action-filled, is actually empty and still, a place of non-action. They are spaces to be filled, through subtle shifts that take place within the observed scene, or through the viewer's own physical or imagined intervention.
| | |
| --- | --- |
| | |
Michelle Teran (CA)
Born in Canada, Michelle Teran is a media artist currently living and working in Berlin. Within her practice she explores the interplay between social and media networks within urban environments and creates performances, installations and online works that are concerned with issues of communication, surveillance, psychogeography, presence, intimacy, social ritual, collaboration and public participation. She has talked, performed, exhibited at events and venues throughout North America, Europe, Australia and Asia such as Transmediale Festival, Ars Electronica, ISEA, BEAP, V2, Dutch Electronic Arts Festival, Impakt Festival, CCCB/MACBA, ARCO International Art Fair, Vooruit, HAU2, Nabi, Performance Space, Waag Society for Old and New Media and the World Wide Web. She has completed residencies and commissions with several cultural institutions including Tesla (Berlin), Waag Society for Old and New Media (Amsterdam), Mobile Digital Commons Network (Montreal) and will be artist-in-residence at both La Chambre Blanche (Quebec City) and Interactive Institute (Stockholm) in the fall and winter of 2007. She has lectured and led workshops on topics such as the relation of artist, performer and audience to networked space and the urban topologies of space, place and non-place at several educational institutions including Bauhaus Universität (Weimar), Kunsthochschule für Medien Köln, Dance Unlimited (Amsterdam) and Willem de Kooning Academie (Rotterdam).
She has received numerous grants and awards for her work. She was nominated for the Transmediale award and received Prix Ars Electronica honorary mention within the interactive art category for her ongoing performance work 'Life: a user's manual'. LiveForm:Telekinetics (LF:TK), a collaborative project with Jeff Mann that develops experimental connected social spaces using streamed media, sensor-based and kinetic objects, was commissioned by Waag Society for Old and New Media (Amsterdam) and was awarded 2nd prize in the Vida 8.0 Art & Artificial Life International Competition, sponsored by Fundacion Telefonica (Madrid).
Personal comment:
Une approche qui rappelle celle de Dunne & Raby il y a plusieurs années (la cartographie de la ville électromagnétique) ou d'autres projects de "scanning" des émissions d'ondes privées (wifi, baby call, etc.), couplée à celle de la projection "pirate" en zone urbaine (à la façon Graphiti Research Lab de NY-Eyebeam). Bref, pas vraiment nouveau, mais mérite d'être signalé. A voir aussi, au niveau matériel, quels sont ces scanner vidéos.
The first health-promoting mobile phone technology in the world
-
Sleep disorders are very common in modern society. Mild forms are familiar to everyone and up to 10 – 20 per cent of adults suffer from related diseases (organic sleep disorders). Diagnosing sleep disorders often requires extensive and expensive sleep recording at a sleep laboratory. At the moment, there are hardly any good screening methods for detecting sleep disorders.
Research conducted in two Finnish universities, Tampere University of Technology and the University of Helsinki, resulted in the development of a brand-new technology for screening and even diagnosing sleep disorders. The first application of the new technology, a smart alarm clock for mobile phones, HappyWakeUp®, is now available. It is the first health-promoting mobile phone application in the world.
In Tampere University of Technology MSc Väinö Virtanen started to record and analyse snoring two years ago to develop a simple screening method. "Very soon we noticed that a common microphone is very sensitive to any sounds and voices produced by movements in the bed during night-time. Everyone has heard the typical voices, when a mobile phone has accidentally called you from someone's pocket", says sleep specialist Tapani Salmi, MD, PhD.
Based on the new technology, the sleep research group developed the smart alarm clock for mobile phones called HappyWakeUp. The smart alarm clock gives an alarm signal in the morning just before the ultimate alarm time, if the sleeping subject is awake or "almost awake" due to the natural sleep rhythms. During these moments, the body and brain are already awake and waking up is natural and easy "It is rather an arousal clock than an alarm clock", says Salmi.
The alarm time is set normally with the mobile phone. The mobile phone is located beneath the pillow or the bed linen or near the sleeping subject. The appropriate almost-awake moments are detected by using a microphone and statistical analysis of voices. During the last 20 minutes before the ultimate alarm time, the analysis is activated to give a soft alarm signal, if there are movements indicating that the sleeping subject is awake or "almost awake". If the subject is sleeping calmly, no alarm signal is given before the ultimate alarm time.
"The alarm signal during deep sleep is stressful and familiar to everyone, but with the smart alarm clock this is avoided. After a trial period of some days or a week, you start to notice the benefits", promises Salmi. The continuous use of the clock helps the internal clock in your brain learn the proper sleep rhythms. "Pleasant mornings help avoid stress in your body and brain. Elevated stress-levels are associated with several risk factors and even diseases, such as hypertension and problems with the heart and brain. HappyWakeUp is not a medical product or treatment to any disease. "In case of sleep-associated diseases and symptoms you should contact your doctor", says Salmi.
HappyWakeUp® is available for Nokia smart phones based on S60 3rd ed FP1 platform at www.happywakeup.com. A one-week trial period costs €2. A two-month trial period and a permanent license are also available.
The sensitive microphone recording could also be used in monitoring other aspects of sleep. The detection of restless sleep, leg movements associated with the restless legs syndrome and screening for snoring and sleep apnea are possible by employing the same technology. The technology makes it possible to perform several repeated all-night recordings and to diagnose sleep disorders in countries and areas with no previous sleep recording facilities. The new technology is extremely cost-efficient, compared to the use of existing special medical recording devices.
The company Smart Valley Software Ltd. is developing the technology into a commercial product, supported by the Finnish Invention Foundation and the Finnish Funding Agency for Technology and Innovation (Tekes) in patent applications.
###
Further information: Sleep medicine: Tapani Salmi, MD PhD, tapani.salmi@happywakeup.com, tel. +358 400 894 790
Dr. Salmi is the author of more than 30 scientific papers and book chapters in sleep medicine.
Technology: Väinö Virtanen, MSc, vaino.virtanen@happywakeup.com, tel. +358 40 704 1891
Full text and pictures: www.happywakeup.com/press
Registered Trade Marks: HappyWakeUp®, ArousalClock®. Patents pending 2006 - 2008.
Microphone to detect other sleep disturbances
Could every morning be equally pleasant?
Personal comment:
Santé, wellness &/or wellbeing & smart phone: une nouvelle "niche business". Mais aussi peut-être une nouvelle manière d'organiser son temps (gestion d'agenda?), basée sur des rythmes biologiques repérables, "monitorables" par le téléphone (on pourrait penser aussi à l'accéléromètre, le gps, év. des capteurs non encore présents dans la téléphone, etc.)?